The Container Store
has their Love Your Luggage Organized Traveler Sale going on right now. I just spent the past two mornings setting everything up, which now looks colorful and beautiful! I'm so happy that it's all set up and we can now just focus on the selling aspect.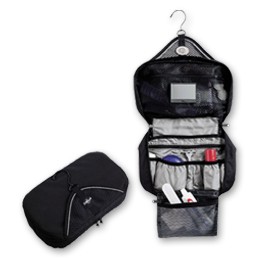 Anyways, today's tip of course deals with the sale. I'll be going camping at the end of this month and one of my most needed items that I own is the
Eagle Creek® Pack-It® Wallaby Trip Kit. It's a cosmetic/toiletry holder. My favorite part about it is that it folds up so it's easy to pack. When you need to use it, it unfolds and has a hanger hook so that you can hang it up on a doorknob, tree branch, closet rod, hook, or shower rod. It has a removable mirror, which I love especially while camping, can't really find too many mirrors amongst trees. There is a zippered pouch that is also removable so you don't have to carry the entire pack, you can take just what you need. There are plenty of slots for little bottles of shampoo, conditioner, lotion, toothpaste, toothbrush, and soap. It is big enough to hold a hair brush and a comb. It really makes my life so much easier and of course organized. Everything I need fits in it nicely and it's all combined in one location so I just grab it and go. Since I only use it for when I'm traveling, I keep the travel bottles inside of it while it's stored so I don't have to worry about where they are. It's currently on sale for $24.99

, regular price it's $34.99.
The sale is going on til June 27th. Plenty of time to stock up on travel items at great prices!
Happy Organizing!