Spring is here! Which means that our
Spring Organization Sale
is going on! Today I'm thinking along the lines of recycling. Now that NY accepts water bottles, aka poland spring, for 5 cents, there's more to take to the bottle returns.
Here are the options that the store has for recycling
RECYCLE
! But I'll tell you all about my favorite one.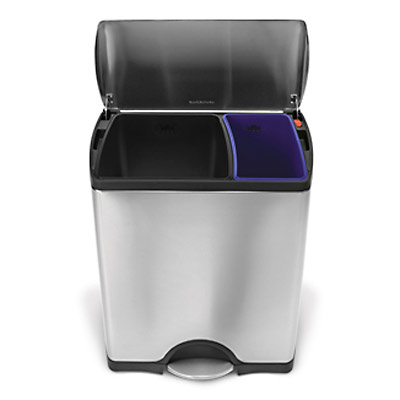 This is a Simplehuman 13 gallon trash/recycle bin. It's slim and can really fit into most spaces and looks great! It has two bins. The black side is a 8 gallon section and the blue side is a gallon section. This allows you to switch it up any way you want. Use one side for bottles, the other for cans. Use one side for trash and the other for recyclables. Use one side for food trash, the other for paper. It has a lid lock so when you're pulling the bags out the lid doesn't keep falling down and slamming your hand. I
love
that feature. I absolutely hate when I'm yanking on the bag and the damn lid keeps closing on me. It also is a soft closing lid, which means when you step off of the pedal, it slowly closes without making an awful loud bang. Another feature, it has a bag clip inside to hide the excess bag. It's a stainless steel can, and it has the fingerprint proof design. It doesn't keep all of the fingerprints off, but it is a lot better than most stainless steel cans. Lastly, it's on sale for
$129.00
regularly priced at $179.00.
A few other things to mention...right now there is a promotion going on that if you leave comments (good or bad) on any products that you have used/own you'll be entered to win a $500 gift card! So say a few things and bam you're entered. Quick, easy and helpful.
Another promotion is that you can enter to win a $1,000 dorm room make over, so if you have anyone going to college, it's a great opportunity. And speaking of college, you can sign up to get an exclusive invite to college night sale. It's only open to those that get an invite and the whole store is practically 30% off. It's a crazy night, but one of my favorite events. The best part is that you don't have to be in college to go. A lot of parents take advantage of it. We usually have them in July and August, right before college starts.
Seems to be all for today!