Organized Traveler Sale
is still going on at
The Container Store
. Which means that you must being going somewhere at some point, even if you're only going for an overnight, I have something that you may want to consider looking at. Today's tip is about our
Microban®
products.
We have a few items that are made with plastic, which has Microban in it to prevent the growth of bacteria.
The first one is our
toothbrush cover.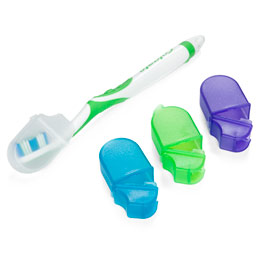 You can see that it's small and compact enough to just cover the important part of the toothbrush. It has ventilation holes on the top to all the brush to dry out when not in use. It comes in clear, blue, green and purple. They are on sale for
$

1.49

,
originally, $1.99
The third item is the
soap dish
. It comes in the clear, blue, green and purple colors just like the toothbrush holders. If I can remember correctly it is two separate pieces, instead of it being hinged. The bottom has ridges to lift the soap up and away from the excess water to allow it to dry out. They are on sale for $
2.19

, originally $2.99.
The fourth item is the
collapsible cup
. I love it and own one. This also has all four colors. It collapses up into itself for storing and transporting and when you're ready to use it just pull it out and drink away. In the lid there is a pill capsule holder. It is on sale for
$

1.99

,

originally priced at $2.99.
There are a few more items that are made out of Microban, but these are my favorite ones and the ones that find to be the most useful. We have these same items made out of regular plastic without the Microban and those can be found
here
. They are not on sale, but they really are cheap enough that you don't need a sale.
Hopefully this helps in your traveling :)