It is Tuesday right??
I've been so busy that who knows what day it is, besides the fact that my body just decided to sleep for 16 hours straight, I think I may have needed some rest, but who knows....
I have picked out an item for today, it is the
6-Section Modular Shoe Organizer,
which is obviously used to store your shoes. Of course, if you can find something else to put in the cubbies than by all means use it for that! It is a modular system that you have to put together yourself, but here is a
warning
it is difficult to put together. If you feel as though you're handy and can usually put things together without a problem, than it shouldn't be an issue for you, but if you don't have patience and aren't so handy, I would stay clear of this product. The positive aspect to it being a modular system is that you can add on to it if need be. It also stands vertical or horizontal.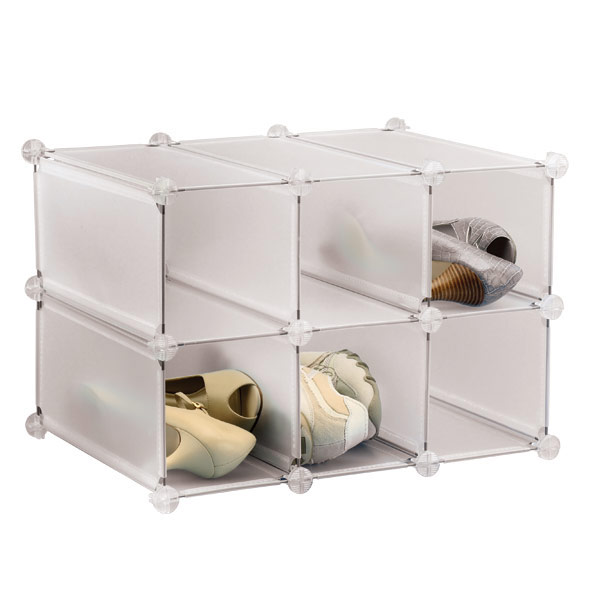 It's sturdy once you put it together and the polypropylene is durable and easy to clean. This is one of the less expensive solutions for shoe storage with it being priced at $14.99, but is on sale for the Spring Organization Sale for
$9.99

. It's always a hit or miss with people. I've had to put these together for the display and haven't really had much difficulties wit
h them, but I also tend to find putting things together easy. It holds 6 pairs of women's shoes and 3 pairs of men's shoes. It could also work for cubbies for the family. If you have stuff that needs to be divided for the individuals, make each cubby a section for mom, dad, and child. You could put hats, gloves, scarfs, and anything else that could fit. I love to say "Use your imagination". I find that a lot of times customers see that it says shoe organization and they can't imagine putting anything else in it. They get turned off when I show them a dog food container what will fit 20lbs of rice easily. They always turn me down. Just take the sticker of the dog off and it's a regular plastic container that you'll find anywhere else.
Anyways, the news of the Container Store is that the Spring Organization Sale is quickly coming to an end on May 9th! But then fear not, we have the Travel Sale right after. A new store in Raleigh, North Carolina is opening up in October of this year!! There is also talk of another store opening in CA somewhere within the year of 2011. There are tons of new programs being initiated for 2011, that I learned about in the store wide meeting, some I was sworn to secrecy about, but super exciting!
Time for work all! Happy organizing :)